Difference between revisions of "Flow/Settings/Alerting/Syslog"
From Observer GigaFlow Support | VIAVI Solutions Inc.
---
Revision as of 11:21, 29 September 2016
You can automatically have alerts sent to you syslog server(s) for choice.
In this page you can select what type of alerts to send to the syslog server(s). the syslog servers input can have multiple entries, separated by a comma ","
e.g. 172.21.40.1,172.21.40.2,172.21.40.3
Each entry can also have a port, facility and logging level set by using the format
IP_Address:Port:Facility:Level
e.g. 172.21.40.1:515:4:23,172.21.40.2:516:23:4
The above would send messages to 2 servers, .1 is on port 515 and .2 is on port 516
Both are using the "Local 7" Facility and the "Warning" level [[1]]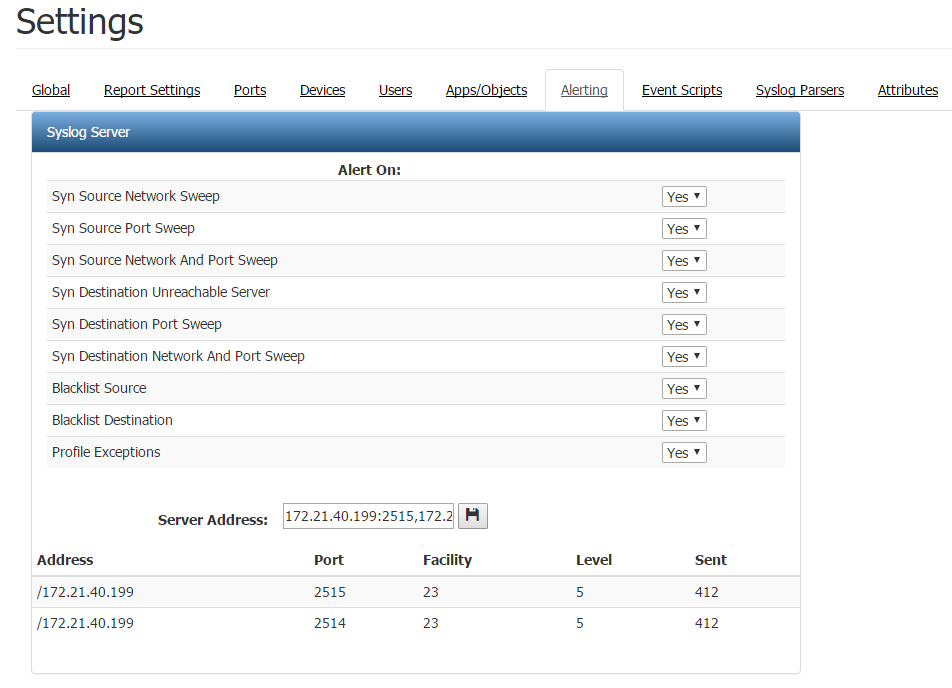 Syslog Message Types
{"Application":"HTTPS TCP/443","Eventer":"179.60.192.3","Profile":"Facebook","appid":393659,"bytes":1447,"device":"88.151.80.179","domain":"","dstadd":"77.95.162.159","dstport":50561,"duration":288,"eventname":"Profiler","flags":26,"fwevent":0,"fwextcode":0,"inif":12,"macdst":"00:00:00:00:00:00","macsrc":"00:00:00:00:00:00","outif":30,"packets":10,"proto":6,"srcadd":"179.60.192.3","srcport":443,"time":1475147589242,"timeH":"29-Sep-2016 12:13:09.242","tos":40,"user":""}
{"Application":"BitTorrent TCP/6881","Black List":"http://lists.blocklist.de/lists/bots.txt","Black List Type":"Source","Eventer":"46.166.138.144","appid":400097,"bytes":120,"device":"88.151.80.179","domain":"","dstadd":"178.20.87.4","dstport":63533,"duration":1380,"eventname":"Black List Src","flags":20,"fwevent":0,"fwextcode":0,"inif":12,"macdst":"00:00:00:00:00:00","macsrc":"00:00:00:00:00:00","outif":30,"packets":3,"proto":6,"srcadd":"46.166.138.144","srcport":6881,"time":1475147643237,"timeH":"29-Sep-2016 12:14:03.237","tos":40,"user":""}

{"Application":"SSH TCP/22","Black List":"http://lists.blocklist.de/lists/ssh.txt","Black List Type":"Destination","Eventer":"221.229.172.74","appid":393238,"bytes":1850,"device":"88.151.80.179","domain":"","dstadd":"221.229.172.74","dstport":16630,"duration":6060,"eventname":"Black List Dst","flags":27,"fwevent":0,"fwextcode":0,"inif":30,"macdst":"00:00:00:00:00:00","macsrc":"00:00:00:00:00:00","outif":12,"packets":12,"proto":6,"srcadd":"77.95.164.214","srcport":22,"time":1475147606249,"timeH":"29-Sep-2016 12:13:26.249","tos":16,"user":""}

{"Application":"TCP/49755","Eventer":"88.151.82.182","Syn Type":"Source","appid":442971,"bytes":152,"device":"88.151.80.179","domain":"","dstadd":"69.109.40.224","dstport":54350,"duration":1804,"eventname":"Syn Src Network Sweep","flags":2,"fwevent":0,"fwextcode":0,"inif":30,"macdst":"00:00:00:00:00:00","macsrc":"00:00:00:00:00:00","outif":12,"packets":3,"proto":6,"srcadd":"88.151.82.182","srcport":49755,"time":1475147666238,"timeH":"29-Sep-2016 12:14:26.238","tos":0,"user":""}
{"Application":"TCP/3476","Eventer":"185.70.185.230","Syn Type":"Source","appid":396692,"bytes":40,"device":"88.151.80.179","domain":"","dstadd":"185.52.92.126","dstport":3476,"duration":0,"eventname":"Syn Src Network And Port Sweep","flags":2,"fwevent":0,"fwextcode":0,"inif":12,"macdst":"00:00:00:00:00:00","macsrc":"00:00:00:00:00:00","outif":13,"packets":1,"proto":6,"srcadd":"185.70.185.230","srcport":42765,"time":1475147582241,"timeH":"29-Sep-2016 12:13:02.241","tos":40,"user":""}
{"Application":"TCP/3449","Eventer":"185.70.185.230","Syn Type":"Source","appid":396665,"bytes":40,"device":"88.151.80.179","domain":"","dstadd":"185.52.93.177","dstport":3449,"duration":0,"eventname":"Syn Src Port Sweep","flags":2,"fwevent":0,"fwextcode":0,"inif":12,"macdst":"00:00:00:00:00:00","macsrc":"00:00:00:00:00:00","outif":13,"packets":1,"proto":6,"srcadd":"185.70.185.230","srcport":42765,"time":1475147676345,"timeH":"29-Sep-2016 12:14:36.345","tos":40,"user":""}

{"Application":"TCP/34056","Eventer":"77.95.162.57","Syn Type":"Destination","appid":427272,"bytes":152,"device":"88.151.80.179","domain":"","dstadd":"77.95.162.57","dstport":34056,"duration":1124,"eventname":"Syn Dst Port Sweep","flags":2,"fwevent":0,"fwextcode":0,"inif":14,"macdst":"00:00:00:00:00:00","macsrc":"00:00:00:00:00:00","outif":30,"packets":3,"proto":6,"srcadd":"94.10.108.161","srcport":57058,"time":1475147662254,"timeH":"29-Sep-2016 12:14:22.254","tos":0,"user":""}
{"Application":"TCP/2233","Eventer":"8.34.181.199","Syn Type":"Destination","appid":395449,"bytes":56,"device":"88.151.80.179","domain":"","dstadd":"8.34.181.199","dstport":2233,"duration":0,"eventname":"Syn Dst Unreachable Server","flags":2,"fwevent":0,"fwextcode":0,"inif":30,"macdst":"00:00:00:00:00:00","macsrc":"00:00:00:00:00:00","outif":12,"packets":1,"proto":6,"srcadd":"178.20.87.218","srcport":29953,"time":1475147782244,"timeH":"29-Sep-2016 12:16:22.244","tos":0,"user":""}